2 minutes reading time
(472 words)
Ixalan Draft Weekend - Sept 30 - Oct 1
Draft Ahoy! The most bang for your Magic doubloons!
Magic: the Gathering's exciting new set, Ixalan releases Friday, September 29th, and that weekend we are going to draft it till it yells "Yaahaaarrrrrr!"

It's just £10 per draft (which gets you 3 brand new Ixalan boosters!) memberships and member discounts also apply!
Come down anytime! As soon as there are enough players we'll fire up a draft pod. Avast!
We'll also get games going on Saturday at 12pm, 2pm, and 4pm and Sunday at 12pm and 2pm to give you every chance of getting in a pod.
Look... it's a new set... It's got dinosaurs and pirates... You're going to be grabbing boosters anyway so why not play with them *and* get them at just £10. Did I mention you get a shiny promo card!?
Shiver me timbers!

You look green around the gills (never drafted before?) Don't worry, we'll help you out and you'll have more fun than a nest full of baby Raptors!
Don't worry about a thing!

We'll help you get started and so will our fantastic community, we're all in this for fun!
Drafting is one of my favourite ways to play Magic. It's quick, it's really easy to pick up and the games are super interesting - everyone has a pretty even chance of winning because there's no advantage of having a big collection here. Decks in a draft very often use cards that are less powerful and might be overlooked in decks using all of your collection (called Constructed play) so it really helps you learn the cards while you're playing!
I looked for some stuff online to help new players with drafting and I was amazed at how complicated they make it look! If you can open a booster pack - you can draft!
There are a few ways to draft, but they all basically are something like this -
​

Each player has some sealed packs of Magic boosters (usually three).



You each open one booster pack and pick a card from it (congratulations, you've started building your 'sealed pool'!)

You pass the pack

to the player next to you, and you get a pack passed to you.



You pick another card.

Repeat till the pack is all gone.

Start the next pack.

Then you make a deck with the cards you picked (you can freely add basic land). It's a smaller deck than usual, 40 cards not 60.


Now play some Magic!



I really hope we'll see you over Draft Weekend, it'll be a lot of fun cracking packs and building some fun decks!

A link if you want all the information about drafting - it's optional, feel free to skip it there is no test ;)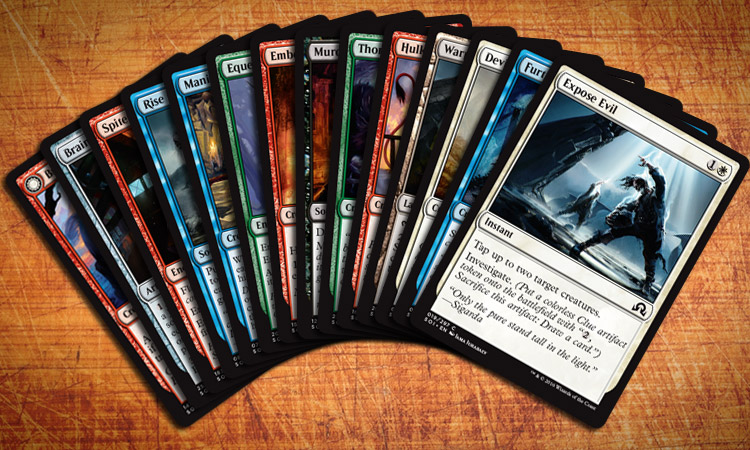 Booster Draft lets you go from deck building to playing in one sitting, and Marshall has lots of tips to maximize your drafting fun.
Related Posts
Comments
No comments made yet. Be the first to submit a comment